Erasmus+

Erasmus+ is the European Commission's Programme for education, training, youth and sport for the period 2014–2020. As an integrated programme, Erasmus+ offers more opportunities for mobility of learners and staff and cooperation across the education, training and youth sectors with simplified funding rules and a structure which aims to streamline the administration of the programme.
The National University of "Ostroh Academy" within the project of the Erasmus + cooperates with the following universities:
The John Paul II Catholic University of Lublin
The Catholic University of Lublin was founded in 1918. It is the oldest university in Lublin and one of the oldest in Poland. It was founded by the Polish Episcopate on the initiative of Rev. Idzi Radziszewski, who was also the first rector of the University.

University of Silesia in Katowice
The University was founded in 1968 year. House administration and the majority of schools are located in Katowice , other units and departments - in cities Sosnowiec (Faculty of Philology , Department of Computer Science and Materials Science , Faculty of Earth Sciences ,Faculty of Fine Arts and Music ). Approximately 35 000 students are studying at the University today.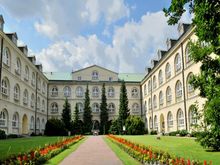 University of Zielona Gora
The University of Zielona Góra was founded on the basis of the Parliamentary Law of June 07th, 2001. The University of Zielona Góra was founded through a merger of the Technical University and the Pedagogical University, thus becoming the biggest state institution of higher education in the Lubuskie Province. The University of Zielona Góra is located in the elite group of classical Polish universities

The Jacob of Paradyż University of Applied Sciences in Gorzów Wielkopolski
The academy is divided into four departments: Department of Administration and National Security, Department of Economics, Department of Humanities, and Department of Technology. The academy has about 3,500 undergraduate and graduate students and nearly 300 teaching staff. We offer undergraduate and postgraduate programmes, a graduate programme in Polish philology as well as undergraduate engineering programmes in computer science, mechanical engineering and security engineering, and other courses.

Masaryk University, located in Brno, is the second-largest public university in the Czech Republic and the leading higher education institution in Moravia. Recognized as one of the most important teaching and research institutions in the Czech Republic. The university also plays a major role in the social and cultural life of the South Moravian Region.